2023 First Look Forum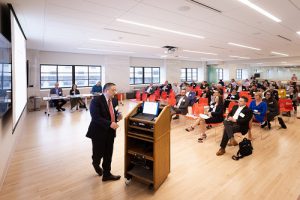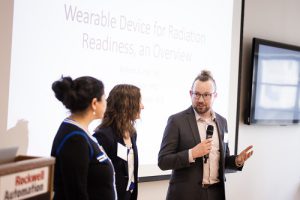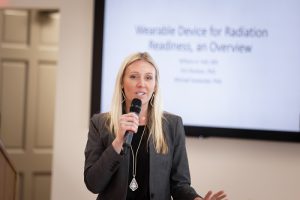 A home assessment tool designed to help the elderly and people with disabilities live independently, a process that converts used battery chemicals into fertilizer, and a pocket guide app aimed at helping underserved families achieve better health outcomes for their babies – These are just some of the innovations presented at the 15th Annual First Look Forum on April 20th at Rockwell Automation headquarters in Milwaukee.
Featuring seven promising technologies, the Forum gave professors and students from the University of Wisconsin-Milwaukee, Medical College of Wisconsin, and Marquette University the opportunity to share their work with investors and companies from all over southeast Wisconsin. The event started at four o'clock with an opening from Tessa Myers, SVP, Intelligent Devices at Rockwell and UWM Research Foundation board member on the importance of innovation and community collaboration, as well as, some history of the Allen-Bradley building and clock tower. Individuals from each institution spoke about the latest in their respective technology transfer office, and the importance of these types of events, community/company engagements and mentorships. Jessica Silvaggi, Interim President, UWMRF spoke about the new Panther Partnering program which lets companies support sponsored research with the potential for an upfront deal for an option or licensing IP. Landon Olp, Licensing Manager Office of Technology Development, MCW; and Kalpa Vithalani, Executive Director of Technology Transfer, Marquette University also gave an introduction.
The format of the event includes each presenter sharing a quick 7-minute presentation on the background and data surrounding their new technology before the audience and a panel of responders. The panelists engage in a constructive conversation with the inventors to garner more information for possible collaborations and partnership opportunities along with some helpful tips for next steps on their research or startup journeys. The panel this year consisted of four individuals: the moderator, Chuck Swoboda, Innovator-in-Residence at Marquette University; Dana Guthrie, Managing Partner at Gateway Capital Partners; Jennifer Abele, Founder and Managing Partner, VC 414; and Mike Maschek, Inception Health, Director.
UW-Milwaukee spotlighted three unique technologies with:
Nathan Spaeth, Technical Director, Rehabilitation Research Design & Disability Center (R2D2), UW-Milwaukee leading off with "myAccessibleHome and AccessibleHomePRO: Making a home fit for you."
This new comprehensive program provides the tools necessary for aging adults and those with disabilities to safely age in place. By designing efficient home safety assessments, which can be daunting, these programs help a trained user perform successful home safety assessments and suggest interventions that consider the person, the daily tasks they complete, and their home environment. The program will be offered through a startup company called, HESTIA NextGen, which is focused on in-depth multi-faceted home assessment designed for consumers, novices, expert rehabilitation service providers, or home evaluation experts.
Deyang Qu, PhD, UWM Distinguished Professor, Johnson Control Endowed Professor at UW-Milwaukee presented on "Economically feasible Li-ion battery recycling"
This new innovative research is focused on one of the important issues of today, recycling spent lithium-iron-phosphate (LFP) batteries in an economically sustainable way. Deyang and his PhD student, Xiaoxiao Zhang have unlocked how to create a low-cost technology coupled with a high-value product which is critical for the recovery of the LFP materials. The innovative solution brings together the mature and low-cost ion-exchange method for recycling LFP and the practical step of then transforming spent LFP materials to high-value fertilizers.
AkkeNeel Talma, PhD, RN, FAAN, Founder of Freyja, LLC, and Associate Professor and Kellner Entrepreneurship Fellow at UW-Milwaukee, College of Nursing spoke about her new app "MaternityMetrix: Prenatal webapp to support a healthy pregnancy."
This clinically vetted webapp has loads of content for navigating pregnancy and childbirth which Dr. Talsma envisions to be used by local community programs and leaders in the prenatal industry. She is already kicking off trials with local churches and a doulas group.
Overall about 3.7M babies are born in the USA. Maternal and infant outcomes vary across populations, and this new app is specifically focused to help underserved populations who face, well-known, documented adverse mother/infant outcomes. Aside from medical/nursing care delivered in medical offices or clinics, Pregnant people need a trusted, informed, community network and support system that helps them navigate and manage their health throughout pregnancy and prepare for childbirth and family life.
The MaternityMetrix webapp informs and guides unlicensed community workers and social network members with regional based reporting, and relevant topics that are linked with clinically vetted and curated content from official, professional sites supporting a healthy pregnancy outcome.
You can read more about each of these technologies, and those presented by Marquette and MCW in our AGENDA and check out our First Look Forum webpage for more pictures from the event.
Immediately following the inspiring presentations, panelists, guests, and speakers whad time to network, and ask remaining questions, and tour the famous Clock Tower.