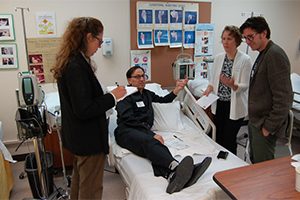 Engineering, nursing 'hackathon' explores solutions to health care issues
A National Science Foundation grant is helping UWM's College of Engineering & Applied Science work with other disciplines on campus to bring more women and underrepresented groups into innovation. In January, UWM became one of eight National Science Foundation I-Corps sites to receive $30,000 to promote inclusion of underrepresented populations in the National Innovation Network.
"The NSF is seeking to expand the borders of the entrepreneurial world to include more minorities and women," said Ilya Avdeev, associate professor of mechanical engineering. Avdeev is the director of UWM's National Science Foundation I-Corps site and the Student Startup Challenge.
On Oct. 20, the College of Engineering & Applied Science partnered with the College of Nursing in the first I-Corps Healthcare Innovation Hackathon. At the hackathon, 16 undergraduate and graduate engineering and nursing students – as well as faculty and staff – explored solutions to problems related to inpatient care. The problems were identified through an empathy workshop that took place in the Nursing Simulation Center. In the workshop, participants considered the hospital-room environment from the vantage points of patients, families and health care providers. One problem was family members' need for medical information at times when providers are unavailable. To address the problem, students, faculty and staff engineered an electronic assistant to record and replay (with a patient's permission) doctor-patient conversations.
"As a nurse, it was great to share our daily work environment with engineers," said Jennifer Doering, associate professor in nursing. "We were able to point out the challenges we have and ask engineers whether they can improve upon the design to make life easier and safer for patients and their families." The College of Nursing's student population is 85 percent women and 24 percent underrepresented groups.
Read the original article here.