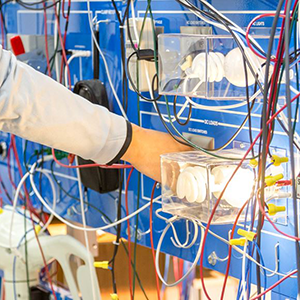 Microgrid expertise, Major Initiative
UWM has become an academic partner in a National Science Foundation research center that's developing improvements in how Americans will access energy in the near future. It could even lead to lower energy bills. The research center is called Grid-connected Advanced Power Electronic Systems, or GRAPES. It collaborates with industry to develop new technologies for warding off cybersecurity threats while
storing, controlling and distributing energy compatible with the existing national electrical grid. Energy storage systems are also a major focus of GRAPES.
"The industry-led work at GRAPES aims to make the grid more reliable, greener and less expensive," says Adel Nasiri, associate dean for research at UWM's College of Engineering & Applied Science. "That makes it a perfect fit for the expertise in microgrid technology that UWM brings." Microgrids integrate energy from many smaller sources, including renewables. UWM is home to experts like Nasiri, Lingfeng Wang, an associate professor of electrical engineering, and Rob Cuzner, an assistant professor of electrical engineering.
Microgrids are like energy islands that can act as freestanding power systems – independent of larger grid – for a fixed area, such as a neighborhood or factory. But they can also connect to a larger grid and contribute power to it. Because of this, they can help ease the nation's near-exclusive reliance on huge power plants.
UWM researchers are working to integrate microgrids into energy markets projected to generate $1.6 billion in revenue in the next few years.
GRAPES is an NSF Industry-University Cooperative Research Center (IUCRC) launched by the University of Arkansas and the University of South Carolina in 2010. Like all IUCRCs, it pairs academic researchers with industry partners. Industry memberships pay for the cost of research in a precompetitive, shared intellectual property arrangement.
GRAPES research has resulted in several spinoff companies in Arkansas since its inception. Nasiri says UWM's membership will help create even more commercial products and startups. The center currently has 16 industry members, including Midwest-based companies such as We Energies, Eaton Corp., Leandro DRS, S&C Electric, American Transmission Company and G&W Electric.
Read the original article from the
UWM College of Engineering & Applied Science here.