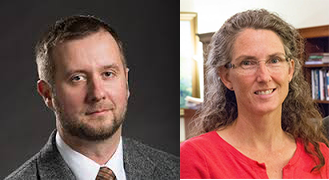 UWM Names First Two Kellner Fellows in Entrepreneurship
The fellows, Ilya Avdeev, an associate professor of mechanical engineering, and Anne Basting, a professor of theater, are supported by the Mary and Ted Kellner Fund for Entrepreneurship, which was established in 2016 through a gift from the Kelben Foundation to fund faculty and staff at the Lubar Entrepreneurship Center at UWM. The work of the fellows aims to bolster the regional economy by creating new enterprises and helping improve the success of UWM graduates by teaching them skills through hands-on entrepreneurial experiences.
Both Avdeev and Basting are champions of entrepreneurship and innovation at UWM. Avdeev is a principal investigator of the I-Corps Training Site in southeastern Wisconsin. Backed by the National Science Foundaation, the I-Corps site is a partnership among five Milwaukee universities. It equips academic scientists with the skills to launch startup companies from ideas that emerge from research. He also is co-founder of the UWM Student Startup Challenge, an all-campus program that grew out of his "Product Realization" course. Students in the course gain real-world experience with local industries by designing, producing and testing a prototype that could eventually lead to corporate sponsorship.
Over the 15-week process, students collaborate across multiple disciplines creating a mosaic team made up of designers, software engineers, artists and engineers. This course was among the first to be designated as an Ideas Challenge course, which embeds entrepreneurship and innovation into existing courses. Avdeev also leads the UWM University Innovation Fellows program, in which UWM student leaders train with their colleagues from across the country at Stanford University to become "change agents" for entrepreneurship. Since its inception, a dozen UWM students have completed the training.
Basting's work during the past 15 years has focused on enriching the lives of elders through long-term care embedded with cognitive art projects. She was nationally recognized as a 2016 MacArthur Fellow for her revolutionary eldercare program TimeSlips, which facilitates storytelling through imagination rather than memory and encourages intergenerational connections. Through UWM's Student Startup Challenge, students are gaining a new perspective on social innovation with Basting's expert guidance.  She leads a "social enterprise" track within the competition that is helping UWM students determine how to launch, sustain and scale their social enterprises.
Her "Performing Communities" course, also an Ideas Challenge course, has served as a launch platform for social enterprises. The class teaches students how to collaborate with community partners in order to identify social change goals and learn skills to facilitate that change. Basting shares her experience in scaling up the TimeSlips program. She created a nonprofit organization that offers certification and train-the-trainer models. TimeSlips now has creative facilitators in 42 states and 12 countries.
About the Lubar Entrepreneurship Center at UWM
Established in 2015 through a generous gift from Marianne and Sheldon Lubar, the Lubar Entrepreneurship Center incorporates and encourages entrepreneurial activities across all of UWM's schools and colleges. The objective of the center is to teach and motivate students, as well as business people in large and small companies, to take advantage of the opportunity that ownership brings. The Center will eventually be housed in a new 24,000-square-foot building which begins construction in late 2017.
About UWM
Recognized as one of the nation's 115 top research universities, UW-Milwaukee provides a world-class education to 26,000 students from 89 countries on a budget of $667 million. Its 14 schools and colleges include Wisconsin's only schools of architecture, freshwater sciences and public health, and it is a leading educator of nurses and teachers. UW-Milwaukee partners with leading companies to conduct joint research, offer student internships and serve as an economic engine for southeastern Wisconsin. The Princeton Review named UW-Milwaukee a 2017 "Best Midwestern" university based on overall academic excellence and student reviews, as well as a top "Green College."
Read the original article here.