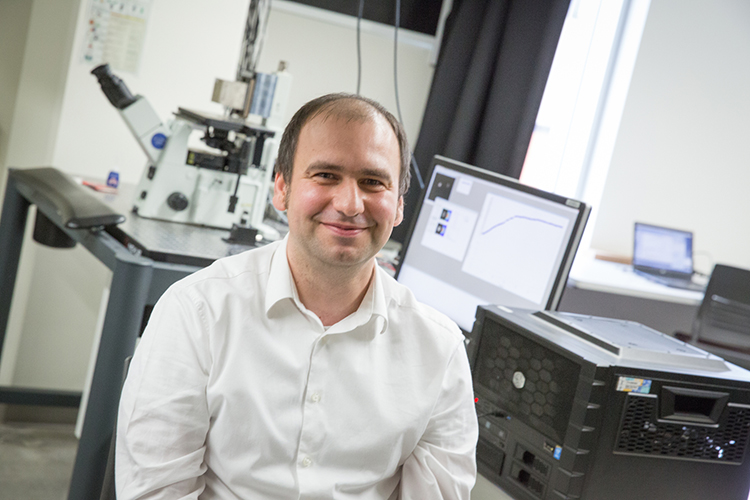 UWM Research Foundation Announces New Catalyst Grants
The UWM Research Foundation is proud to announce four Catalyst Grants for projects that include a new purification system for antibodies; online self-administered diagnostic program for psychiatric disorders; a power hand rehabilitation glove for home use; and an easier two-line breeding system for sorghum hybrids. These projects feature strong research teams and three new researchers that have not been previously funded.
Now in its eleventh year, the Catalyst Grant Program has awarded more than $4.5 million dollars in seed funding for 89 projects. These projects have lead to 25 issued patents, 23 license/option agreements, and more than $19 million in follow on investments in UWM technologies.
A total of $191,000 is being awarded thanks to the support of the Lynde and Harry Bradley Foundation and the Richard and Ethel Herzfeld Foundation. These grants support promising research and development in areas where UWM has the greatest potential to impact the regional economy through commercialization activities.
The award winners are as follows:
Hanjoo Lee – Developing an Online Self-Administration Psychiatric Diagnostic Program
Dr. Lee's research focuses on adult psychopathology of anxiety disorders with an emphasis on obsessive-compulsive disorder, social anxiety disorder, and post-traumatic stress disorder. His current research includes several randomized controlled trial studies that aim to develop computer-based cognitive retraining programs for various types of anxiety and examine their underlying therapeutic mechanisms. He is developing several online assessment systems, and his Catalyst proposal focuses on diagnostic interview software that performs a self-assessment before a visit to their doctor. This system can also help streamline the patient's visit and provide a thorough assessment of their problems related to anxiety.
Ionel Popa – A new method to purify antibodies based on polyprotein hydrogels
Dr. Popa's research focuses on developing and implementing new techniques to study the mechano-chemistry of proteins. He uses a tool known as single molecule force spectroscopy to apply force to proteins to better understand their responses to mechanical perturbation. In this proposal, he has utilized this knowledge to create a protein-based hydrogel made of pure soluble proteins in which the proteins utilized contain regions that bind strongly to antibodies. This technology aims to be faster and less expensive compared to current options on the market.
Mohammad Rahman – Lightweight, Powered Hand Rehabilitation Glove
Dr. Rahman's laboratory conducts research on a variety of robots for use in biomedical applications. Examples include wearable robots, rehabilitation robotics, exoskeleton robots (for rehabilitation & motion assistance), human-assist robots, service robots, surgical robots, and medical robots. A second line of research involves intelligent system and control which includes nonlinear control, artificial intelligence, neural networks, fuzzy systems, fuzzy-neuro control, adaptive control, control using bio-logical signals (such as electromyogram signals), autonomous navigation, and tele-robotics. Dr. Rahman's team has been very active in our Milwaukee I-Corps program.  He has participated on two teams that have explored robotics-based technologies. This proposal focuses on a new device for physical therapy of the hand.
Dazhong Zhao – A new two-line male sterility system for sorghum hybrid breeding
Dr. Zhao's lab has a long-term goal of understanding the molecular mechanisms regarding cell differentiation and plant development using molecular, genetic, cell biological, and systems biology approaches. Specifically, his laboratory is looking at the anther, the male part of a flower which produces pollen, to elucidate how somatic and reproductive cells differentiate.  They are also studying microRNAs, which have emerged as crucial regulators of gene expression, and the role that they play in controlling the auxin signaling network during plant development.  This project is a collaboration with a co-inventor from the USDA (United States Department of Agriculture) in which a new male sterile mutant was discovered in sorghum. This mutant will be utilized to create a new sorghum breeding system.