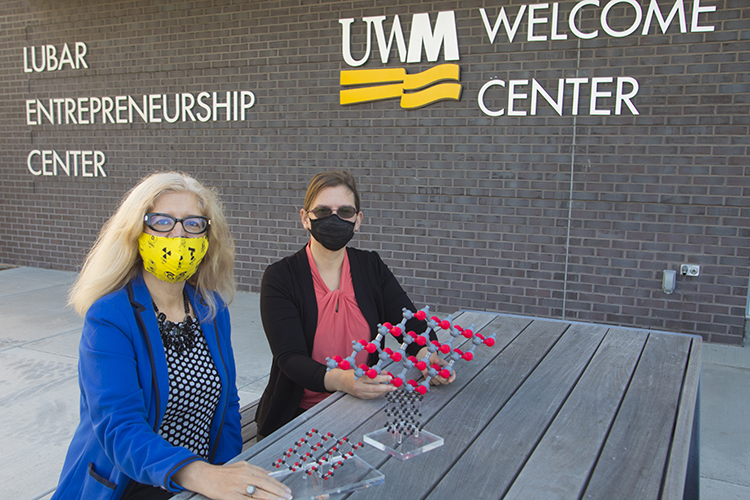 UWM Research Foundation Awards Bridge Grants to UWM Start Ups
In 2020 the UWM Research Foundation was awarded a matching grant from the Wisconsin Economic Development Corporation (WEDC) for $200,000 through their Capital Catalyst Program. The grant is being used to support UWM startups that are managed by faculty, students, or staff that have licensed intellectual property from the Research Foundation. Each company has proposed specific key milestones using the Bridge Grant gap fund which will advance the company to the next level. Phase I of the grant program was awarded this spring for up to $25,000 per grant. The UWM Research Foundation has raised $103,000 thanks to the generosity of individuals and donors including Bader Philanthropies and Clarios. We are looking to complete our matching efforts to run Phase II in early 2022.
The Phase I awardees:
COnovate, Inc.
COnovate, formerly SafeLi, was co-founded by Dr. Carol Hirschmugl, CEO and Dr. Gajdardziska-Josifovska, CTO. They discovered two-dimensional Graphene Monoxide (GmO), a novel carbon-based nanomaterial that is the world's only form of solid carbon monoxide at room temperature and pressure. With this composite material, they hope to create lithium-ion batteries (LIBs) that will power your phone for days, energize your electric car for long distances, fuel your power tools for project after project and charge within minutes, all without risk of fire.
Estrigenix Therapeutics, Inc.
Estrigenix Therapeutics was founded in 2018 and is a collaboration between Drs. William Donaldson (Marquette University) , Dan Sem (Concordia University), and Karyn Frick (UWM) who bring complementary expertise in medicinal chemistry, drug development, neuroendocrinology. Their goal is to develop and commercialize first-in-class therapeutics to treat hot flashes and memory dysfunction in menopausal women. Estrigenix seeks to develop its patented lead molecule EGX358 with the goal of licensing this compound to a pharmaceutical partner.
Pantherics Incorporated
Pantherics Incorporated was originally founded by UWM Professor Emeritus and former director of the Milwaukee Institute for Drug Discovery, Douglas Stafford, and Professor of Chemistry and Biochemistry, Alexander (Leggy) Arnold. The company is a pre-clinical stage life science company focused on discovering, developing, and commercializing novel therapeutics for chronic inflammation. The Company's lead drug, named PI301, is being developed as a first-line, oral, controller medication (instead of inhalers) to reduce lung inflammation and resulting bronchospasm in persistent asthma.
RoddyMedical, LLC
RoddyMedical was founded by nurse Lindsey Roddy, in 2018, and is headquartered in the UWM Innovation Campus. The SafeMover™ is a single-use medical device designed to organize and secure different types of medical tubes/cords to support patient therapy efficiency, improve IV medication safety, and eliminate hazardous pulling and line/cord dislodgement with its patent-pending tension mitigation design. The SafeMover is designed to be worn by patients but can also be repositioned to attach to a bed or IV pole, is skin biocompatible, and made with all medical-grade materials.
T3 Bioscience, LLC
T3 BioScience ("T3") is a privately held biotech firm, legally established in 2012, and is leveraging the solid foundation of nearly two decades of microbiological research by its founder and CSO, Dr. Ching-Hong Yang, Professor of Biology at UWM. T3 is working on the commercialization of non-antibiotic agricultural products, that protect crops from infection by harmful bacteria and fungus while also preventing overuse of antibiotics in farming. Dr. Yang has shown that the lead product RejuAgro is more effective than antibiotics currently being used by farmers to protect against crop infection.