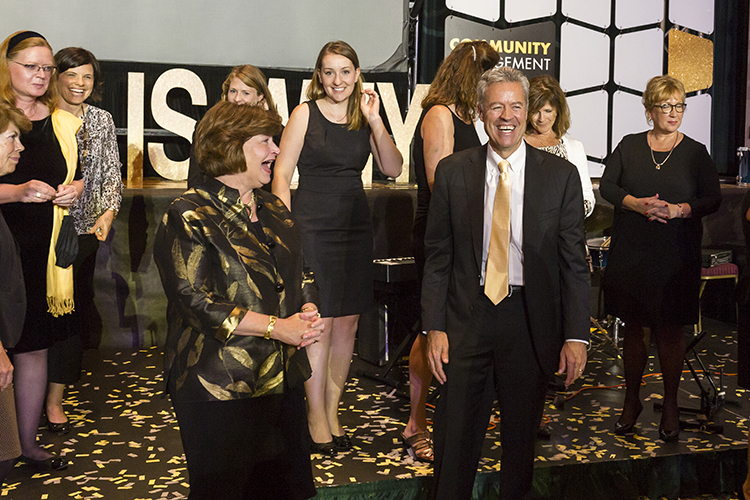 UWM sets $200 million goal in fundraising campaign
Amid a shower of confetti and streamers, UWM Chancellor Mark Mone on Monday announced the goal of the university's comprehensive fundraising campaign: $200 million. That's double the goal of the last campaign, which concluded in 2008 with $125 million, $25 million more than its initial target.
The campaign – called Made in Milwaukee, Shaping the World: The Campaign for UWM – has already raised more than $170 million during its five-year quiet phase. And another big donation Mone announced Monday pushes that total even higher. Rockwell Automation is giving $1.7 million to establish a program related to smart, connected systems, often called the internet of things. The Rockwell donation joins previously announced major gifts of $10 million from Marianne and Sheldon Lubar to establish the Lubar Entrepreneurship Center and $5 million from Mary and Ted Kellner through the Kelben Foundation for faculty support, scholarships and entrepreneurship.
While working on the campaign during its quiet phase, Mone said, organizers had been discussing a goal of $175 million. But, he said, they realized they could top that. "I think we can do better," Mone said. "We need to aim higher and achieve more. This is the biggest fundraiser in our history." The campaign has already gathered more than 47,000 gifts from more than 17,000 donors. That includes 48 gifts of $1 million or more. The campaign is aimed at boosting UWM by focusing on three priorities: student success, research excellence and community engagement.
Sheldon Lubar, one of the volunteer co-chairs of the campaign, called UWM "the people's university," a place that seeks to be accessible. Speaking to a roomful of donors Monday at the We Energies Public Service Building downtown, he quoted Andrew Carnegie as he noted the generosity already on display in the campaign: "He said, 'A man who dies wealthy dies a fool,'" Lubar said. "We don't have any fools here."
Ted Kellner, another campaign co-chair, noted that UWM churns out thousands of graduates each year, 74 percent of whom stay and work the region. That is one of the reasons UWM is a major economic driver in southeastern Wisconsin and the entire state. And, he said, the Foxconn development will push the demand for good workers even higher. "The quality of UWM people is exactly what we need," Kellner said.
Mone noted that the campaign is ambitious. The doubled goal comes less than a decade after the previous campaign, but the university has made great gains in that time. "We've come a long way, and we should be tremendously proud," Mone said.
The full slate of campaign co-chairs includes:
Marianne Lubar ('13), president of the Lubar Family Foundation; Sheldon Lubar ('88), founder and chairman of Lubar & Co.; Michael Falbo, regent emeritus of the UW System; Sheila Falbo, community volunteer; Douglas Hagerman, retired senior vice president of Rockwell Automation; Mary Kellner ('78), president of the  Kelben Foundation; Ted Kellner, chairman and CEO of T&M Partners LLC; Gale Klappa ('72, '11), chairman of WEC Energy Group; Beth Pritchard ('69), principal and strategic adviser of Sunrise Beauty Studio; W. John Pritchard ('69), partner at Porter Wright Morris & Arthur LLP; Lorin Radtke ('90), retired partner of Goldman Sachs; and Jim Ziemer ('75, '86, '08), retired president and CEO of Harley-Davidson Inc.
Read the original article here.