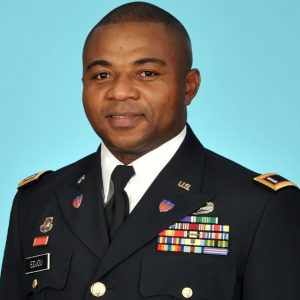 UWM Student Entrepreneur of the Month: Fabien Edjou
Fabien Edjou, veteran, retired Army Officer, and undergraduate student pursing a degree in Supply Chain and Operation Management at UWM, has created a sustainable solution to waste through his new startup, LeanServ, LLC. Founded in 2016, Edjou's business specializes in technology information, products, and services (TIPS) that help organizations transform into zero-waste environments.
"Serving in the military has taught me discipline and a greater level of responsibility for self and duty to others," says Edjou. "My experiences as an Army Officer continue to reinforce my desire to reach my full potential, take risks, and create a positive impact on as many people as possible."
While many waste initiatives focus on reducing and managing waste, LeanServ, LLC., concentrates on preventing waste. Through UWM's Student Startup Challenge Program (SSC), Edjou collaborated with student engineers and designers to develop a versatile and modular accessory organizer called LeanVO (Lean Vertical Organizer). TIPSfolio, a separate optimization tool used in conjunction with LeanVO, was also prototyped and developed through SSC to bring an efficient link between waste producers and consumers.
"Becoming aware of the Student Startup Challenge was the most exciting moment I've had since returning to school," says Edjou. "Going through Customer Discovery was an eye-opening experience that taught me that you never truly know how good your product is until you hear honest feedback from potential customers."
After graduation, Edjou plans to continue growing his business and supporting entrepreneurship at UWM through mentorship and financial sponsorship. With help from the UWM Research Foundation (UWMRF), Edjou filed several Intellectual Property disclosures with even more waiting to be processed.
"Learn to enjoy every aspect of your journey, regardless of where it takes you," says Edjou. "No one knows your dream better than you, so don't give up!"