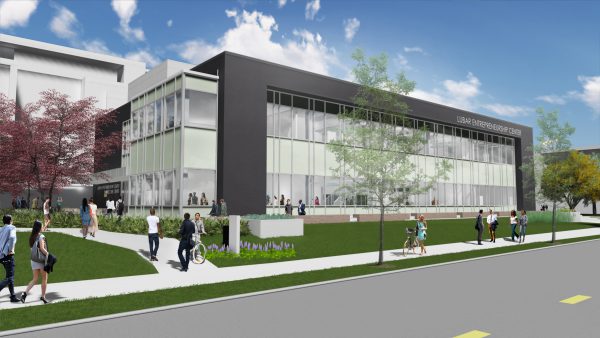 UWM reaffirms role in its driving the economic engine of Milwaukee
LUBAR CENTER'S NEW BUILDING WILL BE AN ENTREPRENEURIAL NEXUS

An artist's rendering of the Lubar Entrepreneurship Center's new building. UWM has a $1.5 billion impact on the Wisconsin economy and is a crucial driver of business and entrepreneurship in Milwaukee. Now we're boosting those efforts thanks to the incredible generosity of business leader Sheldon Lubar and like-minded donors. The Lubar Entrepreneurship Center fosters collaboration between members of UWM's community and businesses in the greater Milwaukee community. The center's new building – construction is expected to begin this year – reaffirms UWM's commitment to entrepreneurship and will further prepare the region's future business leaders. We look forward to seeing them join the 5,300-plus professionals that UWM graduates each year.
Best regards,
Mark A. Mone, Chancellor
ONE OF AMERICA'S TOP RESEARCH UNIVERSITIES UWM REAFFIRMS ITS ROLE IN DRIVING THE ECONOMIC ENGINE OF MILWAUKEE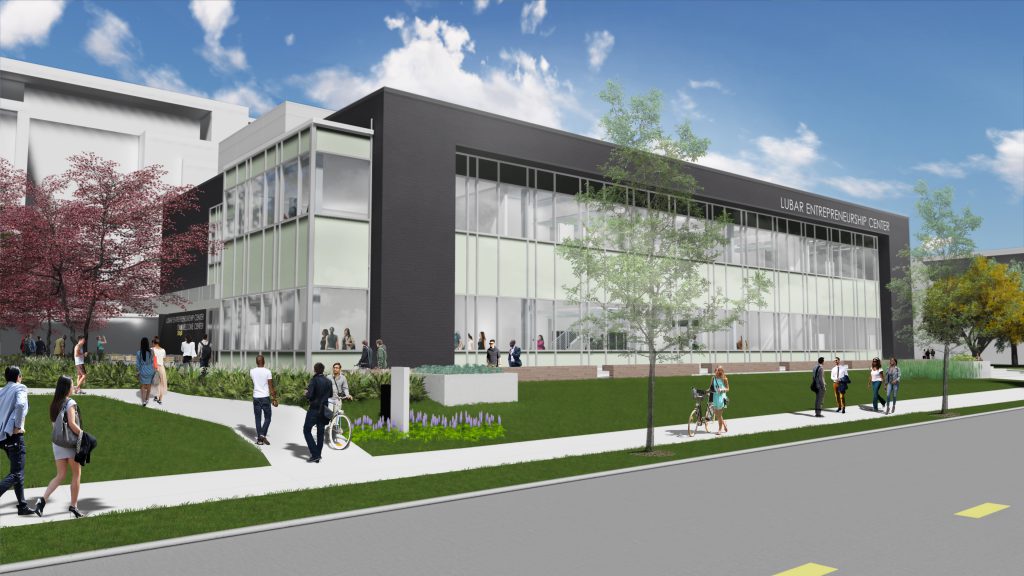 The shovels will soon hit the ground, and when the construction dust settles, UWM and Milwaukee will have a new hub for transforming the region's economy. UWM's Lubar Entrepreneurship Center already provides entrepreneurial resources for UWM's community and the greater Milwaukee region. That collaboration will be enhanced by its new two-story campus facility at the corner of Kenwood Boulevard and Maryland Avenue. Groundbreaking for the 24,000-square-foot center is expected in the fourth quarter of 2017, with an opening date targeted for early 2019.
"Our vision of the UWM Lubar Entrepreneurship Center is to engage the university and broader community in entrepreneurship and education programs that enhance the success of our students and our region's prosperity," said Lubar & Co. founder Sheldon Lubar. The center was initiated by a $10 million donation from Lubar and his wife, Marianne, in July 2015.
The center will be a nexus for students, business leaders, faculty members and entrepreneurs to meet and work on new enterprises. It will feature classrooms for courses and workshops, as well as gathering spots for speakers and Innovation Labs where students can prototype products and software.
Center programming will make entrepreneurship an integral part of the UWM experience for all students and faculty members. One example is the five-week I-Corps training. Backed by the National Science Foundation, I-Corps sends would be entrepreneurs on a customer-discovery sojourn to hone an idea before they seek funding. Several competitions offer students the chance to win seed funding by pitting their ideas or business plans against others.
Since the Lubars' initial gift, the UW System has contributed $10 million to cover construction costs. Another $3 million comes courtesy of gifts from the Kelben Foundation, established by Mary and Ted Kellner, and from Milwaukee entrepreneur Jerry Jendusa.